The Friends of Cats Association – Oradea – was founded on 22nd April 2010. It is a non-profit, all-volunteer organization in Oradea, Romania, focusing on the rescue, care, and re-homing of abandoned and stray cats.
Main aims of the organisation:
Provide a temporary no-cage, no-kill sanctuary for a number of maximum 40 feral and abandoned cats and kittens in Oradea;
Facilitate the adoption of cats into safe, loving, healthy and permanent homes;
Make the local community aware of the role they play in reducing the stray cat population by neutering in our city and in improving the overall quality of animal welfare.
Provide free of charge spay/neuter programs by attracting funding from international foundations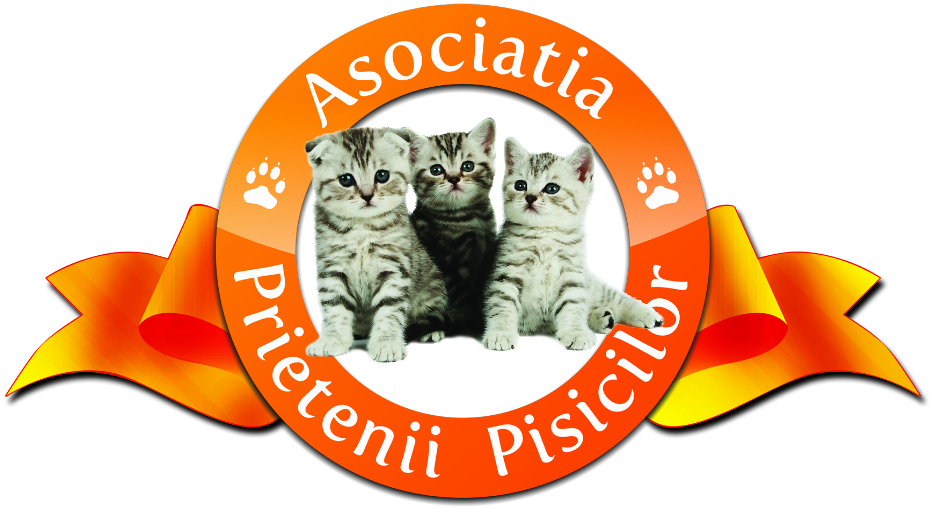 Capacity and other limitations
The capacity of our adoption center is of 40 cats – a limitation due to lack of space (including quarantine space) and lack of financial support (no sponsor since 2014). Exceeding this number results in the inability to pay recurring expenses. Which means not only reducing the quality of life for the cats in our care (eating less, reduced medical services), but also risking not being able to continue our activity.
Another limitation is that given by the extremely low number of volunteers and their possibilities. If newborns are found abandoned, there are no people who can feed them every two hours, as the volunteers all have a job.
The cat shelter is able to take a cat found on the streets, if the maximum capacity hasn't been reached, but  there is no space to keep her in quarantine, which is absolutely necessary to avoid her transmitting the disease to other cats. In this case, too, the support of people who have space and are willing to foster a cat is needed.
Brief history and achievements
2010 - 2011. Beginnings
2010, april 22 – The Friends of Cats association was founded in in Oradea, by Mr. adrian Gheara, being – to the best of our knowledge – the first of its kind in Romania. It functioned in a two-roomed, rented house, with a common yard, in Oradea. The rooms were converted into play rooms for the cats – shelves on the walls, play centers etc.
2010-2011 – Several attempts were made to involve the local authorities and possible sponsors into this project, with the purpose of obtaining a piece of land where we could have built a shelter of our own, so that no rent had to be paid and the capacity of the shelter could have been increased – with  no success whatsoever.
2011 – Financial problems appear. An English citizen, a real animal lover residing in Oradea, offered us a temporary solution, namely – he allowed us to shelter the cats in a house rented in Oradea and also build an annex in the yard. So at the end of 2011 we moved from the old location to the new one. The construction of the annex began in the same period.
2012. Peaceful times
In May 2012, the annex was finished so the cats got access to the outside, too (enclosed space). Two rooms were transformed into sick wards – for incoming cats or kittens. Adoptions became very rare.
In september 2012, we were awarded a 3000 EUR grant from Fondation Brigitte Bardot, destined to cover part of the cost of food for the cats.
By December, the number of our feline inhabitants grew to 50. Also in December, five of our cats were welcomed by Maria Polman Foundation in Holland, where they found happy, forever homes.
During 2012, 25 cats were adopted.
2013. First problems
At the beginning of April, we reached the end of the grant awarded by Fondation Brigitte Bardot. Attempts are made to find those people who are willing to donate 1 EUR/month for the cats. Adoptions to Holland continued with the help of the same foundation. Adoptions in Oradea decreased dramatically as the number of stray cats increased continuously and people who wanted a cat could easily find one on the street. Starting with May, the number of abandoned kittens just kept on growing and, by October 2013 we had in our care over 60 kittens, plus the 22 adult cats that couldn't find a forever home by that time.
Severe financial problems starting with August, expenses with food and veterinary services explode.
In September 2013, a neutering campaign started with the help of Maria Polman Foundation, through FPCC.
78 of our cats found forever homes during 2013, either in Romania or in Holland.
2014. Crossroads
The neutering campaign started in 2013 ends in February, but requests for help keep on coming. In April, the Marchig Animal Welfare Trust grants us 2000 EUR for cat food.
At the end of April, abandoned kittens started coming and by mid-summer we reach the highest number of cats ever cared for in our shelter: 99. Inevitably, health problems appear and veterinary expenses rise enormously. Volunteers and foster parents take home as much found kittens as possible, due to over-population and health problems in the shelter.
At the end of June, our sponsor announces that he can no longer pay for rent, operational expenses and veterinary services, due to financial problems. At this point, only food was still covered by the grant awarded by the Marchig animal Welfare trust.
E-mails and requests are sent out, actions on social Media start in order to raise money for rent and veterinary expenses. Besides people donating small amounts of money, we receive support from the Kitty Connections group in the U.K. with the help of whom we manage to pay rent. Help comes from Kindness trust in Australia – a grant of 2000 EUR is awarded for "most urgent needs of the animals", which was used for food (starting with end of September when the previous grant ended until December 2014) and more urgent veterinary interventions.
At the end of July we get the approval letter from the Brigitte Bardot Foundation for sterilization of 600 stray cats (500 females and 100 males). The campaign starts in August.
Different fundraising activities are organized at the end of the year in order to raise money for rent, food, vaccines and treatments for the cats: food fundraising, Christmas concert, calendar sale. The money raised help us pay existing debts and survive for a couple of more months.
141 cats find forever homes in 2014, in Romania or with the help of Maria Polman Foundation in Holland.
2015. On our own
The Maria Polman Foundation in Holland closes its gates and adoptions decrease.Regular donations from cat lovers decrease from January to March, mainly because ups and downs in people's own financial situation. As adoption possibilities, as well as financial resources decrease, and health problems persist, we can only take in a limited number of cats – and very few, ideally after having been vaccinated (until then, kept in foster care) and after some more cats are adopted – so there is a waiting list for taking in cats from foster care.
Health problems persist although the cats are fully vaccinated and seen by the vet 3 times a week, treated and sheltered in good conditions. Seeing no chance of moving to a new place, build according to standards, we decide to remove the old floor and place tiles instead – more appropriate for our situation, hoping that the cats' health will improve considerably and consequently, medical expenses decrease.
With the support of Help Animals International and donations, we were able to ensure necessary food for the cats during 2015.
41 cats find their forever home by the end of the year, many of them thanks to stray Cats Netherlands who help with adoptions. As a rule, when a home is found, the cats can travel directly to their family (maximum of several hours spent at the foundation before being picked up by the owner, due to lack of space).
2016. Against a wall
During the first months of the year, the results of previous year's renovation and the constant disinfection performed start to show: the overall health of the cats has indeed improved, except cases like e.g. chronic stomatitis which need constant care and treatment. Other chronic or terminal diseases surface in the case of older cats – and not only (no wonder after the life they had on the streets) and our efforts are redirected to saving their lives and improving their health.
We resume the writing of our project for a new shelter, in order to get rid of rent, but at the end of May we are given notice: until 1st August we need to vacate the house, demolish what we had built because the owners have decided to sell. After one month of searching, we finally find a place where we are accepted to move with the 63 cats in our care. Although it doesn't have a yard or garden, there is no alternative: it's either too expensive, or they won't accept cats. Before this terrible news, we take in abandoned kittens found in boxes or bags, until there are no more quarantine rooms left, thus reaching 75 cats at one point. The need of a TNR campaign is obvious but our application is unsuccessful.
Repairs must be done at the new place and conditions improved. Debts at the veterinary clinic pile up, also because we need to prepare the space but also because cats need food, we need to pay for utilities, rent etc. and we have no help except monthly donations and what we can raise by handmade items or by asking for help on social Media. All these combined cannot possibly cover all expenses that are needed. Capacity of the shelter decreases to 40 cats due to new conditions.
At the end of the year we still struggle with repairs, heating, bills. Some of the cats have adjusted well but others continue to lose weight due to difficulty to adjust to new shelter, mainly because lack of outdoor space.
During 2016, 32 kitties find their forever homes either in Romania or in Holland, with the help of our friend, Petra van Hoorn, who had been supporting us for some years now, against all obstacles encountered.
2017. Quo vadis?
Harsh winter does not make it any easier for any of us, cats or volunteers. Bills and never ending current problems consume all our resources – time, money, people. Volunteers are badly needed, but despite posts and ads, no one seems to find the time to come and help more than once or twice, so the team remains unchanged.
Spring brings many abandoned kittens. With help of people who agree to foster them, and volunteers who take them to their own homes, we manage to assure the quarantine until vaccination. Consequently, the number of the cats in the shelter increases again to over 60 and expenses with vaccination, food and medical care rise, spay and neuter costs to follow. We apply again to Cold Noses Foundation for funding for a TNR programme.
Daily chores and to-do lists take up all our free time. The website is hacked, restored from back-up but the need for a new one is obvious. Volunteers start learning and working on a new one, in the spare time they have left.
In autumn, our friend Petra from Holland turns one room in her house into a cat room, to be able to help more cats and to have a place where even the shy cats feel secure. It is a wonderful project, as even shy cats behave completely different if not surrounded by 30 other cats and they can be in a more home-like environment, with people actually living there and offering lots of attention and love. The cat room can have 5 residents at one time.  
In October, we get a negative response from Cold Noses Foundation but in November, the Trustees of Help Animals International agree to award a grant of € 3,000 to support our cat rescue, neuter and adoption programme, a much needed help which comes to our rescue exactly at a time when we were starting to lose spirit.
As for Christmas, we get a most welcome gift, which comes as a total surprise: 40 bags of dry food (400 kg) from Royal Canin, following an action they had been running on Social Media. This doesn't only mean that the cats can get very good dry food, or that the expenses will drop for a while, but also that the grant received from Help Animals International will last longer if well managed.
39 cats find their forever homes, mostly in Holland, with the help of our friend Petra and many others find their way into good families with our support, either by posts or by directing potential adopters to those kittens who need it most.
2018. Ups and downs
The team gains a new volunteer, who also has the space to foster kittens. He gets more and more involved in every aspect of the shelter, which is of great help. Especially that a "morning volunteer", a retired lady adored by the cats and by us, encounters health issues and can only go to the shelter 2-3 times a week, out of 5 working days needed.
We do our best to keep the number of the cats in the shelter at 60 maximum, while also having kitties in foster care. Some of the older cats start having worse health issues and until the end of the year we say a very painful good-bye to some of them, especially to funny Lance, sweet Anton and our 19-years-old, beloved Lucy, who have all been with us for many years, through better and worse.
But as painful as it was, a lot of other cats still needed our help. One was a kitten found hours from dying, with both back legs broken, who lived to run again – we named him Lucky. Another desperate tomcat on the side of the road, trying to get people's attention in vain, until somebody stopped and took him to the vet and now he is living proof that life can be walked through on three legs only – and he goes by the name Bricky, happily adopted now. And last but not least, a cat that lost his eye after being hit and left for dead in the street, whose will to live helped us help him get to his feet. He deserved a name like Matt, as he is a very handsome boy, spoiled rotten by everyone.
Discussions for a piece of land for a new shelter take place in spring. At this point, it seems we found the perfect one and one of our friends is willing to take a credit for some of the money needed. But the City Hall turns out to have other plans of that area, and no authorization of a shelter is possible there.
Good news follow: a company named Sykes contacts us in order to sponsor some cat food and 16 spaying / neutering procedures – a total of 720 euros, a great help for us. This action of theirs is highly appreciated and shows increasing concern for animal welfare. Could this be a sign of change for the future in our society, despite constant impediments from local governance? Namely, the City Hall is developing a project, a local regulation according to which people feeding any kind of animal (bird, cat or dog) on the streets, is fined more than 300 EUR, which is more than the minimum salary, not to mention average pension. A public debate takes place, but the regulation passes anyway, later to be attacked by us and in 2019, by another association, which hires a lawyer to take it to court.
A special case is brought to our attention in summer: 70 cats kept in cages by an elderly man, in his home, in horrible conditions. 3 of our volunteers try their luck and knock on his door, some 60 km away from Oradea. To their surprise, they are invited inside, where they found 35 cats, some yes, in cages – for it was meal time, and the moms were separated from the rest, while the others  were free. He had one room for them for fear the neighbours might poison them, like they did with his other cats. He didn't have either the money to buy good food, to sterilize or provide medical care, so we started to visit by turns, bring them to Oradea to be spayed / neuter or given medical care and also to provide food for them, what we could afford or raise. 2 of the kittens found new homes, but unfortunately, the smallest one died at the clinic.
30 cats are adopted in 2018, including shy cats who stayed in the shelter for years until they had the chance to go to the "cat room" in Holland and get adjusted to a different kind of life, with much less cats and much more attention. As it turned out, for most of them it was all it took to become perfectly adoptable cats, even if some of the old habits they had took some more time to forget.
2019. Let's TNR!
Although asking around and posting in search of "morning" volunteers, nothing changes from this point of view. Two of the volunteers who have regular jobs help out in the mornings before going to work, so there is an overload for all of us as a consequence. Nevertheless, the talented ones of our volunteers overdo themselves and on 1st June they raise nearly 1400 EUR by selling amazing cat-themed items, thus ensuring the roof over our heads for the months to come.
The cat room in Holland works wonders in the first part of the year and 19 cats are adopted into loving homes until May. Holiday and also kitten season approach though and adoptions stop for the entire summer.
May is also the start of a TNR campaign sponsored by Abri voor Dieren Foundation in Holland, to which our friend Petra van Hoorn applied. Both she and us all had the wonderful surprise of being granted 5000 EUR, covering 300 spaying procedures for street cats and 500 euro-worth of cat food. An amazing help for all rescuers in Oradea who have been struggling to pay for the many cats they trap, spay and return to the territory. 190 cats have already been spayed / neutered in this campaign and thus thousands of innocent lives were saved by preventing helpless kittens being born and suffer on the streets. The campaign continues.
It will be followed by another one, sponsored by another friend of ours, Chantal Wolfs, who offered to pay for 160 spaying procedures out of money she's been saving. Such friends are worth entering the history of our small shelter, as the help they offer is priceless and rare.
Kitten season in Oradea turned out to be worse than expected and before any campaign started, people found newborns in bags or kittens on the streets. As the shelter is overcrowded and volunteers overloaded with work, the best idea we could come up with was taking as many as we could to our homes or to foster families, and care for them until adoptions from the shelter re-start. Considering the many cats, ours, all of them rescues from previous years, we already have at home, it's no surprise that we soon got completely stuck and now we have no less than 35 kittens in our care. The good part of it is that they are safe, healthy and growing, some of them were already vaccinated. But it's no wonder that the expenses increased, even if for 15 of them, volunteers are struggling to pay for the food and the litter they need, at least.